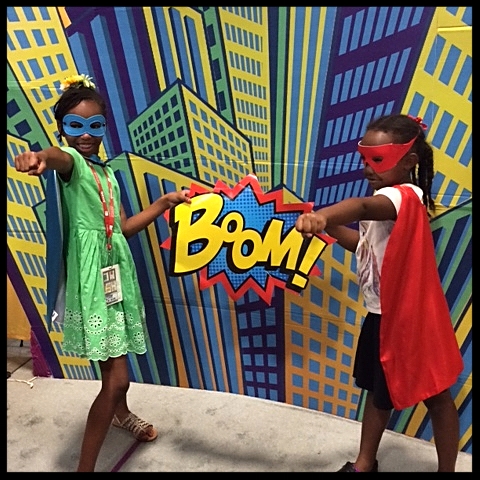 Comic book fans at the National Book Festival, 2016
My friends' creative, college-aged sons are comic connoisseurs.  My visits with them always include engaging stories of diverse superheroes and the writers/artists that create them.

Two years ago, they were thrilled to meet MacArthur "genius grant fellow" and comic/graphic novelist Gene Luen Yang at the National Book Festival. His novel, American Born Chinese was the first graphic novel to be nominated for a National Book Award and the first to win the American Library Association's Printz Award.  Yang believes "both graphic novels and comics can be used effectively as educational tools in the classroom." 

Comic books can be used as educational tools to support literacy and language skills and to motivate reluctant readers. Organizations such as Reading With Pictures "get comics into schools and schools into comics" by providing educational resources for teachers and parents. 

The Library of Congress believes comics support literacy by:
increasing readers' confidence.
providing complex stories that are accessible to older learners.
increasing reader comprehension and vocabulary.
Above all, comics remind us how we are all ordinary superheroes sharing our gifts and talents with the world.  As Batman once said, "You only have your thoughts and dreams ahead of you.  You are someone.  You mean something."  BAM!
Did you like this article?  Share it.