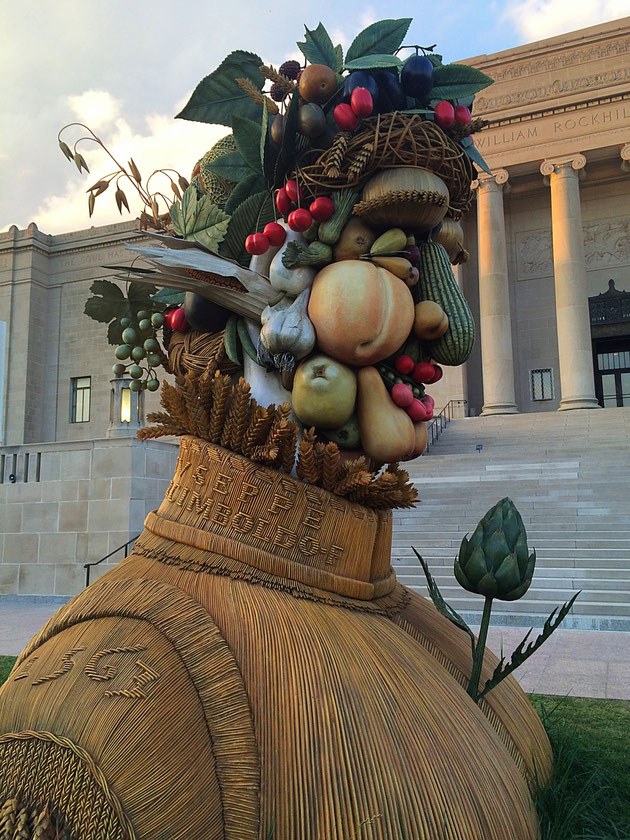 Artist Phillip Haas' 15-foot-tall sculptures on the lawn of the Nelson-Atkins Museum of Art are amazing.  Entitled The Four Seasons, they are 3-dimensional interpretations of Giuseppe Arcimboldo's portrait series of the same name.  Arcimboldo was an Italian Renaissance painter best known for creating "composite head" paintings.  These paintings were composed of items such as tree roots, flowers, and vegetables. 
Exploring these sculptures with children inspires fun and creativity.  Children love to search for the things that remind them of each season.  Summer, shown above, includes leaves, fruits, vegetables, a gourd nose, and a pea pod smile. 

As part of an educational program at the Nelson-Atkins, students learned more about how Haas was inspired by Arcimboldo.  During the program, the students created still-life portraits by using oil pastels on construction paper.  After drawing an assortment of fruits and vegetables, they cut them out and arranged the cut outs into facial representations. 
For more ideas for creating an Arcimboldo-inspired portrait, visit the Denver Art Museum's Creativity Resources, Composite Picture of a Leader (for secondary students) and Food Face Fun (for primary students).