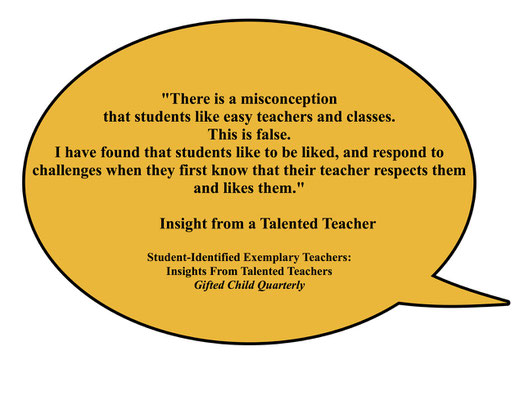 What qualities define an exemplary teacher? 
Three researchers who study exemplary teachers "in the eyes of their students" offer valuable insight.  The research included students' ratings of teachers followed by interviews with the teachers identified as exemplary.  The following four themes emerged:

Exemplary Teachers:

1.    "know and take a personal interest in their students."
2.    "set high expectations for themselves and for their students."
3.    "make content and learning meaningful and relevant to the future and respect students' choices."
4.    "have a clear passion for their students, teaching, and for their content."

The teachers also believed they made a difference in children's lives. 
  Additionally, 67% of the exemplary teachers had undertaken gifted education coursework and training.

The researchers also note:  "Even though these teachers were identified as exemplary by their high student ratings, that not all their administrators believed or recognized them as exemplary teachers.  Therefore, we caution that some outstanding and effective teachers might not be recognized as such by administrators or other adults.  The implication from this finding is that multiple sources, such as student perceptions, need to be considered in evaluating teacher quality."

Read more about the attributes of exemplary teachers in the article:

Gentry, M., Steenbergen-Hu, S., & Choi, B. (2011).  Student-Identified Exemplary Teachers:  Insights From Talented Teachers.  Gifted Child Quarterly, 55, 111-125.