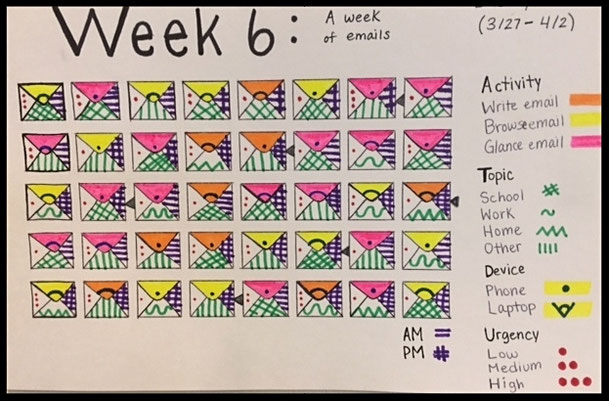 McDaniel College student's data postcard
One of the defining features of 21st century life is the prevalence of data.  Whether it is the complexity of Google algorithms or the simplicity of a Fitbit's measurements, data is everywhere.  Standing at the center of this data vortex is . . . you.  The activities that comprise our daily lives are what give meaning to the data.

Visual information designers Giorgia Lupi and Stefanie Posavec see data as a creative material like paint or paper. Their engaging book, Dear Data, depicts how they became friends by revealing to one another details of their daily lives. Every week, for a year, they sent each other postcards describing the details of their lives. But they didn't write about their lives, they drew it.  "Every Monday we chose a particular subject on which to collect data about ourselves for the whole week:  how often we complained, or the times when we felt envious; when we came into physical contact and with whom; the sounds we heard around us.  We then created a drawing representing this data on a postcard-sized sheet of paper, and dropped the postcard into an English post box (Stefanie) or an American mail box (Giorgia).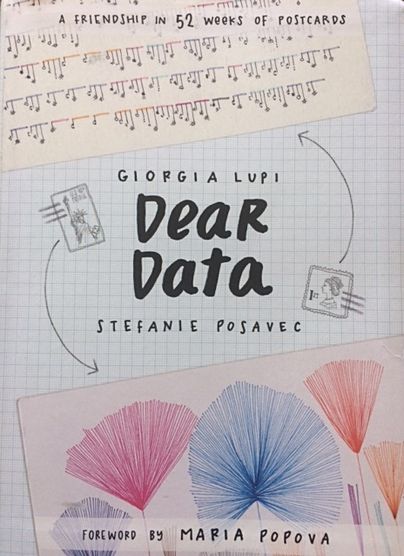 Inspired by the book, students at McDaniel College collected and visually presented data associated with their "ordinary" lives and created a visual data timeline.  Like the book, their depicted activities capture patterns and creativity in even "the smallest details of our lives." 
Finding and visually displaying data is an excellent project for students of all ages, from elementary students to graduate students. Using data to quantify the self will interest students because they can choose which data set to explore and collect.  Critical and creative thinking skills combine as they consider the best way to visually represent the information.  It's an excellent project-based learning activity because students learn more about themselves as they explore the world around them.  To learn more, visit dear-data.com