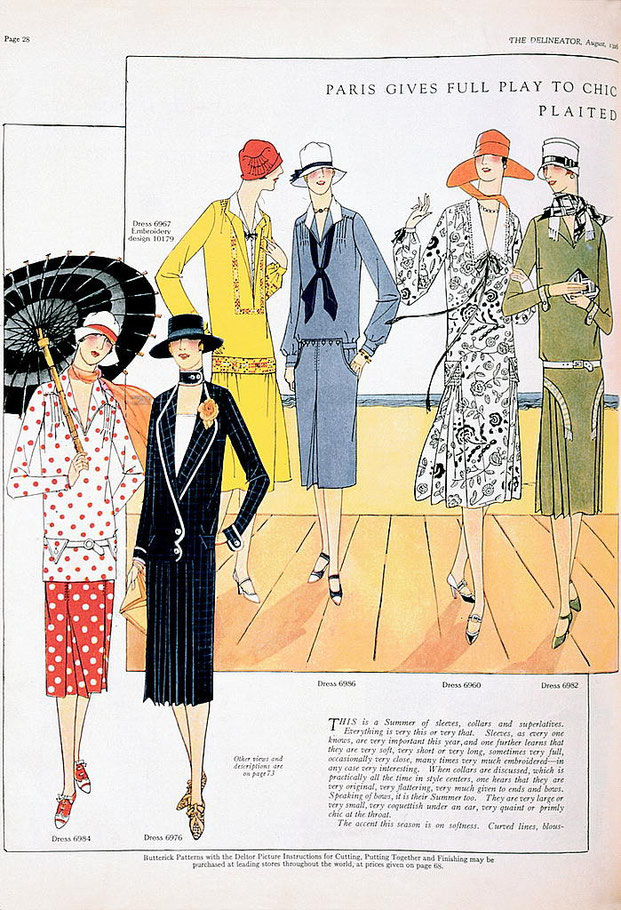 Library of Congress Image:  Illus. in: The Delineator. New York : The Butterick company, inc., v. 109, no. 2 (1926 August), p. 28-29.
Fans of the popular television drama, Downton Abbey, probably know about the traveling exhibition, Dressing Downton, which showcases a selection of exquisite costumes and jewelry from the series.  Set in the early twentieth century,  Dressing Downton highlights a time in British history when "industry, fashion, and politics were changing drastically."

The changing of fashions can be an engaging discussion to have with children. The conversation can lead to further inquiry about current events, history, design, art, geography, global commerce and much more.  Use the following questions to get started . . . in a logical fashion:
What clothes are in style today?
How do you decide what to wear? 
Is what you wear important? 
Do you ever make judgments about people based on what they are wearing? 
Do certain people set fashion trends? 
Are some of these trends expensive?  
Why do we desire these clothes?
What clothing was popular when your parents went to school? 
Are there any fashion styles today that might seem silly in 100 years?