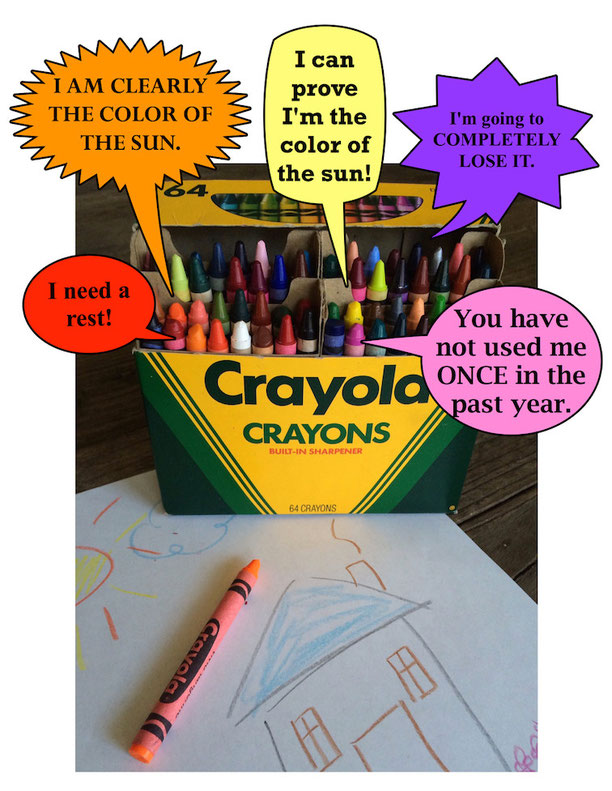 The Day the Crayons Quit, by Drew Daywalt and illustrator Oliver Jeffers, gets an A+ for creativity and humor.  The hilarious book is about disgruntled crayons who have plenty of reasons to quit coloring.  Red crayon needs a rest, Blue needs a break, and Purple demands precision.  It's up to Duncan to find a creative way to solve all their problems.  He wants all his crayons to be happy! 

The Day the Crayons Quit is a wonderful selection for promoting higher-level thinking and fun.  The following ideas will get you started, but the possibilities are endless.


Children can: 

Compare and contrast the crayons' points of view and create their own interpretations and perspectives.
Write similies or metaphors for each crayon and explore metaphorical meanings of idioms . . . "Purple Crayon is as neat as a pin."
Describe future crayon behaviors by making predictions.  "What will the crayons do in the future?"
Analyze cause and effect.  "If Yellow Crayon and Orange Crayon stop speaking again, what will happen?" 
Use paint color sample cards to create color synonyms for a selected crayon.  (For example, paint sample names for shades of green include, avocado, chartreuse, emerald, olive, and teal.)  Add adjectives and imagery to further describe the crayon's feelings and emotions with poetry.