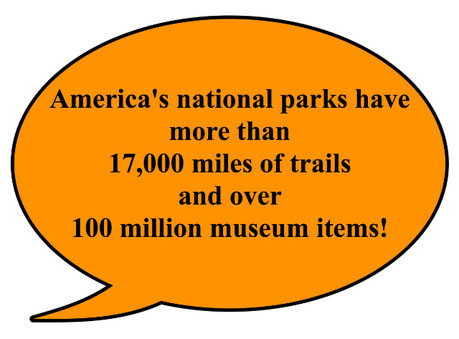 Perhaps you're familiar with the Nation's 59 national parks, but did you know the National Park Service also manages 124 historical parks or sites, 78 national monuments, 25 battlefields or military parks, 18 preserves, 18 recreational areas, 10 seashores, 4 parkways, 4 lakeshores and 2 reserves?

How many have you visited?  Next week will be a good time to cover a few more!  On Saturday, April 19 and Sunday, April 20, our national parks are offering free admission.  Many also have special events planned for the entire week (National Park Week, April 19-27, 2014).  Why not make plans to visit a park, explore nature, and/or learn history?

In National Parks you'll find:

National Parks also preserve the works of great American artists and writers such as:
Did you know Park rangers provide special talks, walks, biking tours, and more for Cherry Blossom Festival and for the National Mall "the landscape of our nation's history?"  Best of all, a visit to the National Mall and its iconic Memorial Parks is always free.  Can't visit during Cherry Blossom Season?  No problem, enjoy a few of our photographs below, or view the beautiful blossoms via the Cherry Blossom Webcam. 
Subscribe in a reader